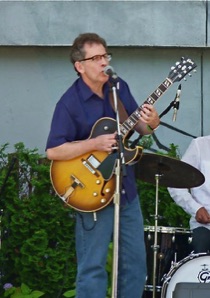 Chris Stevens - Guitar
A Seattle native, Chris started playing guitar at age 15 and was soon wearing out records by B.B. King, the Paul Buttrfield Blues Band, Wes Montgomery and the Ventures.  He began his professional career in the mid 70's, performing in a variety of cover and original rock groups until being introduced to the flourishing Seattle Blues scene in 1987.  Chris quickly formed his first blues band, the Screamin' Bluejays.  Since then, he has appeared at most every blues venue in the Northwest, leading his own bands, backing up national touring acts and sharing the stage with the finest blues musicians the area has to offer, including vocalist Mark Dufresne, the late great guitarists Tom McFarland and Isaac Scott and northwest R&B icon Little Bill Engelhart.
Throughout the 90's Chris was the guiding light behind the King-A-Lings, a blues dance band inspired by the music of guitar legends B.B., Freddy and Albert King.
in 2003 Chris released his long awaited CD "Bankshot" featuring all original material, straddling the border between blues and jazz.  Shortly thereafter he formed his long-running group Chris Stevens and the Surf Monkeys.  Nowadays, Chris brings all his influences to bear as leader of the Chris Stevens Band.
A frequently asked question on the gig is "do you give lessons?"  The answer is "yes"!  Chris has been a sought after guitar teacher in the area since 1984.  Visit www.guitarwithchris.com to learn more, and feel free to contact Chris any time about guitar lessons.