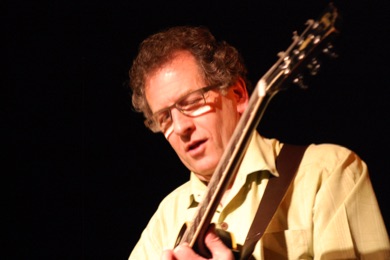 Seattle guitarist and singer Chris Stevens has long been a favorite of Northwest blues fans.  Preferring to deliver his electric blues lines with the rich tones of a big Gibson archtop guitar, Chris combines scorching blues feeling with dazzling chops and constantly surprising musical ideas at every show.  Fans and fellow musicians have likened his talents to those of B.B. King, T-Bone Walker and Duke Robillard.
Chris Stevens Band keeps a firm footing in the blues while stretching the boundries with ultra cool spy themes, reverb drenched surf guitar classics and Chris' own "blues on the edge of jazz" originals, creating an inventive and entertaining style that cuts across genres.
Chris' bandmates are bassist Mark Dalton and drummer Todd Zimberg, with an occasional guest musician thrown into the mix.
Catch this remarkable band in action at clubs, concerts and dance halls throughout the Puget Sound area.